Give Your Skin a Hydrating Boost
It's sweater weather! Don't forget to give your skincare a hydrating boost. Your skincare routine should reflect the condition your skin is in, such as increased dryness during winter months. 
There are a variety of things you can do to keep your skin hydrating and glowing. For instance, keeping a humidifier in your living space will increase the moisture content in the air, thus keeping your skin from drying out.
As always, drinking lots of water or herbal teas will always keep your skin nourished from the inside out. 
Another method is to increase your essential fatty acids, which you can achieve with over-the-counter vitamins and supplements. Finally, you can defend your skin from environmental factors by adding more vitamins to your skincare.
Figure 1. Skin that is hydrated versus crepey.
Why Does Our Skin Get Dry in the Winter?
During the winter, your skin is most at risk for transepidermal water loss (TEWL) due to dry air. In order to compensate for the lack of moisture, the air will attempt to pull water from within your skin. This can leave your skin extra crepey, feeling dull, flat, or have increased fine lines. Thus, it is imperative to increase your skin's barrier via improved cellular cohesion. Simply put, your skin need a boost of moisture!  We've curated our favorite products that will fit into anyone's routine.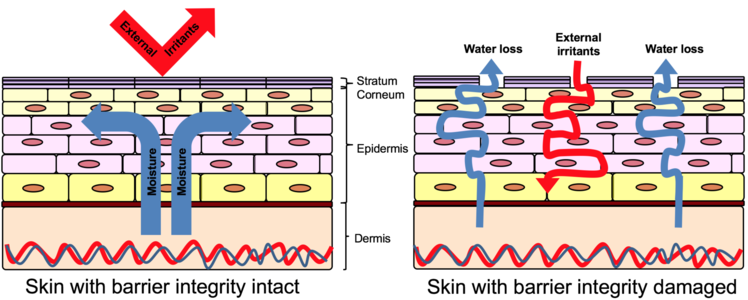 Figure 2. A diagram showing how moisture and the skin barrier interact with the outside world.
Hydrating Boost: Serums and Gels
Boost your moisturizer's hydrating benefits by +30% and recover your natural glow. This serum is Yonka's sercret to glowing skin is infused with a complex of exceptional hydrating. The Booster Hydra+ by Yonka is a lightweight, water-based serum for all skin types and won't clog pores. This is a great addition for younger skin. 
A moisturizing bath for the skin, this 12-hour moisturizing gel quickly absorbs into the skin to provide a refreshing flash of hydration. This gel is d
esigned to prevent TEWL by forming a protective film on the skin's surface and enhancing the ability of the epidermis to trap and retain water.
An ultra-moisturizing water serum, Phytomer HydraSea uses 
polarized weaving algae water to combat dehydration. Using polarized water, HydraSea is able to rapidly delivery water throughout the skin, while improving your skin's water retention.
Replenish lost moisture and provide nutrients for younger looking skin. 
Ideal for excessively dry or cold climates, the Hydrating B5 Gel is like first-aid for your skin. This is a great everyday moisturizer on its own or when added to your current moisturizer. 
Cleansers to Retain Moisture
Vie cleansers incorporate hyaluronic acid so that your skin doesn't feel dry or stripped. Both the Instant Cleansing Milk and the Cleansing Gel work to protect moisture loss, and are formulated to work with specific skin types.
Vie Instant Cleansing Milk

The Instant Cleansing Milk has a creamy texture that transforms into a soft evanescent fluid. 
Vie Cleansing Gel


Formulated for combination to oily skin. This gel turns into a foam once in contact with water. 
Overnight Sleep Masks
SkinCeuticals Hydrating B5 Mask

Bring your skin's natural moisture level back to equilibrium. This intensely hydrating weekly gel mask is designed to help replenish moisture levels of dehydrated and stressed skin. Re-establish the water balance critical for maintaining your skins metabolic functions.
Intensely hydrate and soothe dry, dehydrated skin. 
This regenerating antioxidant mask provides your skin with hydration over time. This soothing gel-cream mask is designed to maintain your skin's optimal moisture levels and defend against skin-aging dehydration. Ideal overnight sleeping mask to soothe all types of damaged skin and increase skin hydration.
This sleep masks utilizes different forms of hyaluronic acid to improve efficacy, and rejuvenates the skin by triggering its own collagen production. Hyaluronic Acid with low molecular weight focus on fine lines, dehydration, and limits transepidermal water loss, whereas the encapsulated high-molecular weight HA goes deeper into the skin for an extended effect. 
Conclusion
You can meet your skin's daily and season needs by customizing your products to enhance the hydrating benefits. Regardless if you live in a cold climate or not, each season comes with a new set of aggressors to the skin. Adding any of these products into your regime will keep you hydrated during the transition to winter; however, once winter arrives, you may need an additional level of moisture.
Sign up for our newsletter to stay up to date with our skincare suggestions, or call us directly to get a customized skincare regime setup for you.